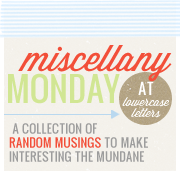 1.
I'm absolutely
exhausted
. I'm not sure why that could be except that we got new bedding and a queen size mattress (we had a double, and with my 6'2" hubby, it was a bit tight). I love sleeping in it, and I just don't want to leave the bed! But shouldn't that make me less tired because of the great sleep?
I convinced Billy to get a
Shabby Chic
comforter because we found one he didn't think was too girly. I was so excited, because, well, I adore all things Shabby Chic
(the actual brand)
at Target.
3.
I get really giddy on
rainy days
. Maybe it stems from my 4-year stay in hot, dry, Laredo, Texas, where rain was a luxury. Maybe it's just the mood that it puts me in. I just want to sit on my couch and read a book.
5.
I consider myself pretty
OCD
about lots of things, but lately, our little apartment has been a wreck. Okay, so maybe not a wreck, but it's not nearly as clean as I would like. The weird thing is, I can't get motivated to get up and get things done! Maybe I'm just in a funk. Maybe my ultra-relaxed man has been rubbing off on me. Maybe I'm just really busy and should give myself a break (which is highly unlikely to happen).