It's Single Sentence Sunday, again! Join in!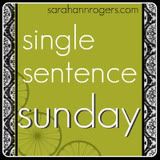 This Week's Sentence:
I am a little pencil in the hand of a writing God who is sending a love letter to the world.
-
Mother Theresa
Do your own Single Sentence! Don't forget to grab the button from the sidebar and link up so that others can read yours!