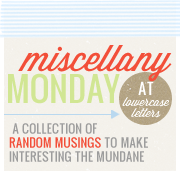 1. Real friends
stay over until three o'clock in the morning and you don't even tire of them. Billy and I had some of our favorite people over on Friday night, and we couldn't believe how late it got and we didn't even mind! Thank God for really good, lovely friends.
2. I'm really fidgety.
I always like to be doing something with my hands (yes, like a five year old). I hope it doesn't drive other people crazy. I think sometimes it might make my husband think I'm a little weird, but he loves me.
3. I have a spastic style.
I show up to work one day in a skirt, blouse, heels, fixed hair, and makeup. The next day, please don't expect this of me - I very well might not deliver. I am likely to walk in wearing jean capris, gladiator sandals, and the first un-wrinkled shirt I could find. And I'm lucky that day if I remember mascara.
4. Painting my nails
makes me feel weird. I always see people with awesome colors on their pretty fingers, but I guess I just can't get used to it. I will paint them for one day and then take it off. I don't know how to not chip the paint - my hands are too busy (see number 2...).
If I could keep one color on them, I'd probably go with a something flesh-toned. See how boring I am?
Maybe one day I'll get this bold:
Or... Maybe not.
5. Tomorrow
I may make Change the World Tuesday available to you all... I just haven't fully made up my mind. I need your feedback, please?!?