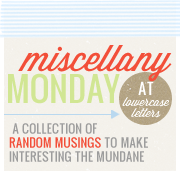 1.
You know these two expressions:
"Running around Like a Chicken with your head cut off," &
"My brain is fried Like a Chicken,"...
Well, they suit me lately. However, as odd as it may be, I am liking the busyness. It gives me a sense of purpose. It's as if crazy kind of suits me.
2.
I got a
new planner
to help me organize all of my crazy chickenness.
Don't you just love it? I do. Being organized is my only way to survive my multi-tasking, 50-thoughts-at-a-time mind.
3.
Busyness = less frequent blogging.
I'm sorry. Please pray for me though as we get ready for our move this weekend. I will be posting pictures next week about all of the fun that moving will be.
4.
Change the World Tuesdays
as a meme
flopped
. I'm pretty sure that I'm not going to do that again. However,
Chloe
, if you'd like to do one again, send me the link and I'll put it in my post. Thanks for your participation last week.
5
.
I'm considering
going bob
.
Like Heidi's:
Yes or No?