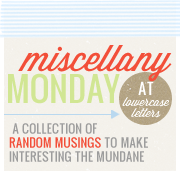 I'm linking up today to Carissa's blog for the first time in a while!
1. I decided to make today
casual monday
. I almost ironed and coiffed, and then I thought, no! I want to wear a t-shirt. So I did. It's a free country. Maybe tomorrow I will make more of an effort, but let me tell you, I am super comfy.
2. One of my best friends, Chelsie, from
...love, chelsie
, needs our
prayers
! She is in the hospital with some kidney issues, and it has not been the easiest thing. If you think about it, swing over to her blog and leave her a lovely message!
3. Today, I'm getting a
new phone
. Even though I looked and looked at iPhones, I just couldn't get myself to do it. I decided on a Droid, but I'm not sure which one yet. Do you know what this means, though? I can read all of your blogs on the go! Yay!

4. My
hurting hubby
is having to wear one of these:
Poor thing! He loves it though. It makes his twenty-something self look like he's dressing up as a baby boomer.
5. I'm so glad to be back. I have missed you all so so so much!