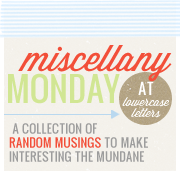 1. This

Memorial Day

means that both Billy and I have the day off. Which means we just woke up. Which means the day is much shorter but also much more rested. It also means we should all take a moment to remember the men and women in service. They are protecting my beloved home.
2. My design site, bon blog designs, is undergoing a

makeover

. You can grab the new button, if you'd like.
3. This weekend, my brother graduated high school. He's so grown up!
4. The other night, I made fresh pasta (meaning I bought it fresh) and organic chicken and roasted organic asparagus. It was so great. I never knew the difference between fresh and dried pasta (except that it's more expensive). I got fettuccine from Buitoni, and it was so good. It made more than I thought it would, and the pasta has a more doughy consistency.
5. This Saturday, we are headed to
Roca Blanca, Mexico
for our mission trip. I can't wait! I've been all over Mexico, but not here! Sometimes, the most fun thing for me is to watch our team on the trip and how it impacts the people around me. Certain things don't affect me as much anymore because I've seen them so many times, but it is so refreshing to see the trip grow and change people I do life with. I can't wait.
6. Speaking of the mission trip and my 1week absence, I have a couple of
guest bloggers
coming your way, and they are just lovely. It's a secret, but I know you will adore them.