So, it's the very end of Friday, but I wanted to do this, thanks to my new blogger friend
A Lil Story
!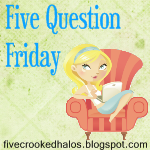 1.
Do you sing karaoke? If so, what is your go to song?
Goodness - I used to enjoy it a little bit. Then I married a man who can sing, and I felt infinitely insecure. The last song I karaoke-d was "R-E-S-P-E-C-T" at a birthday party. It was wonderful and fun. On our honeymoon, Billy entered a karaoke contest and won. He sang Michael Buble's "Home" and we won a bottle of tequila, which we promptly gave to the people sitting beside us. Needless to say, they became Billy's

biggest

fans.
2. What is your favorite coffee drink?
Easy - decaf triple grande no-whipped mocha from Starbucks. Yep - I get it every time. If it's before 10am, I follow that with a bacon and gouda sandwich. See?!

3. If you could choose your own name, what would it be?
I love the name Esperanza. It means "hope" in Spanish. I've dreamt about naming a daughter that, but I would just die every time someone said it in a southern accent over the beautiful Spanish way it should be said.
4. Were you ever bullied?
Nope. One time in first grade, however, I wanted to go home and I told my teacher that my arm hurt. When my parents picked me up from school, they asked me what was going on (my arm was fine). I made up a wonderfully extensive story about the bully that was just awful to me. When they found out it was a lie, they acted surprised. I talked to my mom recently and found out they weren't. I wasn't as great of a story-teller as I'd thought.
5. How often do you eat fast food?
Too often. We're trying to back off of it, but I just can't separate from Chick-fil-A. It's so lovely and I have it at least once a week. Besides that, though, I don't really eat it often. I'm more of a deli kind of girl.