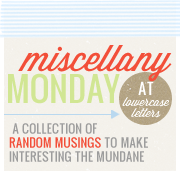 1. We had a great couple over this weekend, and I made Ashley's (from
6 inches of ribbon
)
dump cake
. It was so good and only took three ingredients. I felt so accomplished and our friends loved it! I think Billy will be demanding it from here on out!
2. Almost every morning, I eat breakfast at work. It consists of a cup of water and an Oat's & Honey bar from Nature Valley. I don't know how nutritious this is, but to this non-breakfast-loving girl, it gets the job done.
3. I now have my
Pandora
set on a Kari Jobe station. I'm now hearing a slew of breathy worship ballads that make my day just so much better (excepting the constant reminder that I will never have that voice). I found this gorgeous song by
Sarah Reeves
. Poor Billy has heard this song a good 10 times over the weekend (Sorry, Honey...)
4. When I straighten my hair, I don't wash it for about

3 days

. Sometimes 4. For all of you straight, thin haired girls, you might think this is pretty gross. But if you have thick, coarse, bunches of hair that could probably spread across 5 bald people, you know what I mean. By day 3, I'm thanking my natural oils for finally kicking in and giving me shine.
If you haven't entered the Green Giveaway, make sure to do it soon!