I'm linking up to the new mommy-of-two's Miscellany Monday: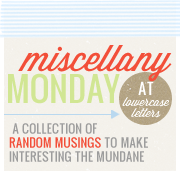 1. Our Mission Trip was just wonderful. I'll update more about it in spurts, I'm sure. And this post might be not-so-random due to all I want to share!
2. The place we stayed was just gorgeous.
3. My friend Chelsie and I became really close with these two sisters at the church we worked with. It was such a blessing to see their dedication to their community. I felt a partnership with them even though we came from such different backgrounds!
4. I am always reminded of God's presence while worshiping in Mexico. I know it is partly cultural, but the reckless abandon with which these people run into God's presence is humbling and inspiring.
5. My guest bloggers, Cole and Lauren, were amazing last week. To read their posts: Change the World Tuesday: Feed My Starving Children & Where Would You Go to Meet God?
6. Thank you for your prayers and encouragement while we were gone. It meant so much and I know God worked because you interceded.