If you haven't entered the
Giveaway with a Heart
, please check it out! It's for an amazing cause!
It's Single Sentence Sunday, again! They come so quickly! Remember to let me know if you do one, and leave your link in a comment.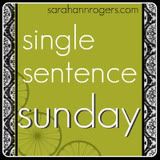 Today's Sentence:
We impact the lives of others by making meaningful, intentional relationships and being aware of the people we come in contact with us daily.